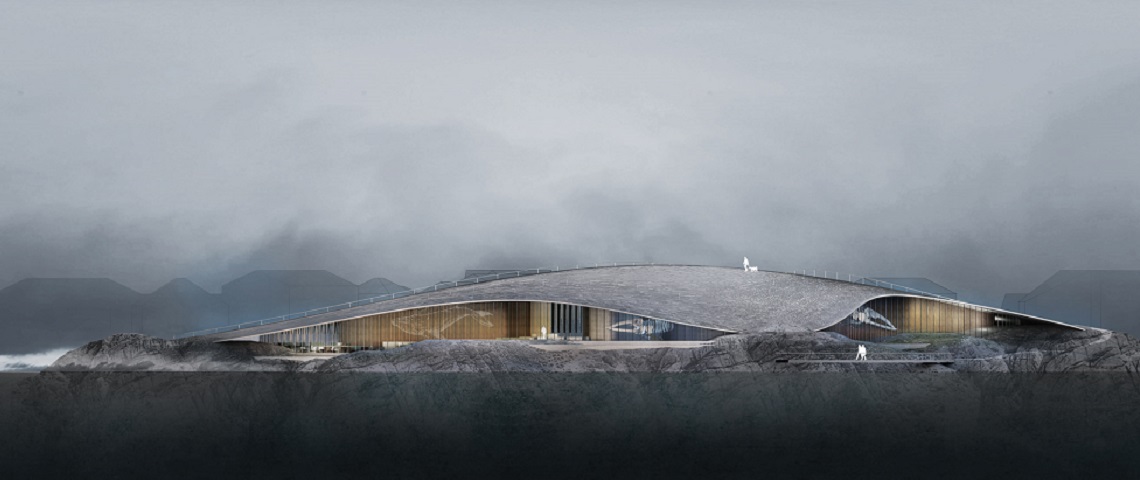 The Whale - Museum and whale watching platform in Andenes | Image by Dezeen
The Whale
Danish architect, Dorte Mandrup, has been selected to design a whale-shaped visitor centre, located on Andøya, the northernmost island in the Vesterålen archipelago, which is 300km north of the Arctic Circle.
The Whale will be located on the edge of the Norwegian Sea, its fin roof will give view of marine life, the midnight sun, the mountains as well as the Northern Lights. The curved concrete shell will be covered with unworked local stones, and its shape will minimise wind turbulence. The visitor centre will offer art, science exhibitions, a tidepool, a campfire, whale-watching areas, alongside offices, a cafe and a shop.
According to the Global Construction Review website, Andøya attracts 50,000 travellers a year, and the project is expected to increase this. Dorte Mandrup will work with Danish companies Marianne Levinsen Landskab, JAC Studio, Norway's AT Plan & Arkitektur and Nils Øien, and American consulting engineer Thornton Tomasetti. The team took the prize against competition from Bjarke Ingels Group, Snøhetta and Reiulf Ramstad.
Global Construction Review reported that Børre Berglund, Whale AS' chief executive, said: "Choosing a winner of the architectural competition has been a major challenge because we had several proposals of a very high quality. However, the project from Dorte Mandrup is a clear winner and meets the competition criteria in the best way. It is poetic, and at the same time, a very exciting and unusual building."
Dezeen reported that Dorte Mandrup said: "Located this far north, Andøya is a unique place, and the Whale an extraordinary project. Not only will we be creating architecture in yet another remarkable landscape, but we will also take part in increasing the understanding of whales and preservation of marine life."
The Whale is expected to open in 2022.