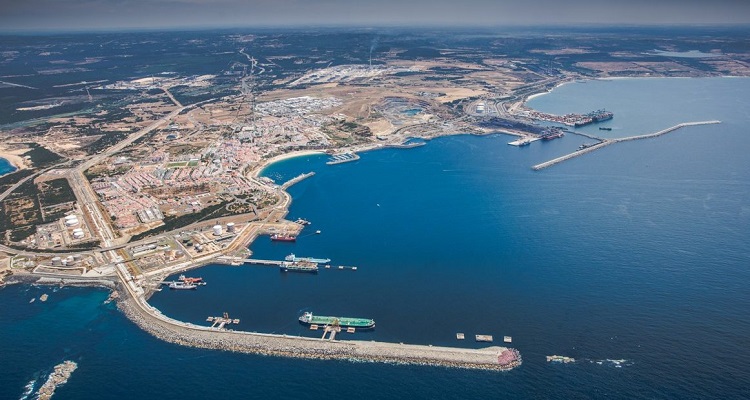 Aerial view of the port of Sines | Image by safety4sea
Portugal to offer €640m port scheme on 50-year lease
The government of Portugal has launched an international tender for a container terminal at the southern port of Sines, designated as Vasco da Gama Terminal. The work is to be carried out as a public-private partnership, with the private sector providing its €640m funding. It is a B.O.T - Build, Operate and Transfer project under the public service regime.
The Vasco da Gama Terminal will have an area of 46ha, 15 dock gantries and a 17.5m draft. It will add the capacity to handle 3.5 million containers to Portugal's largest artificial port and its 1.4km pier will be able to admit any size of container ship. The depth will be 17.5m, compared with 16m at the port's present Terminal XXI.
The Global Construction Review website reported that Ana Paula Vitorino, Portugal's previous minister for the sea, told reporters that there will be a 50-year concession period, and consortiums would have 9 months to submit their bids.
Additional information of the tender, provided by the port of Sines website: The tender was released on the 14th of October; The duration for the submissions of bids will be 9 months; The award will be given in the last quarter of 2020; The construction will start in 2021; The expected duration of works is 3 years.
The Macauhub website reports that Chinese companies have been positioning themselves to enter the Portuguese infrastructure market in expectation of large projects being launched.
A delegation from China Construction Third Engineering Bureau Group (CCTEBG), part of the China State Construction Engineering Corporation (CSCEC), was recently in Lisbon, as well as in Porto, to meet with officials from construction trade associations and individual companies.