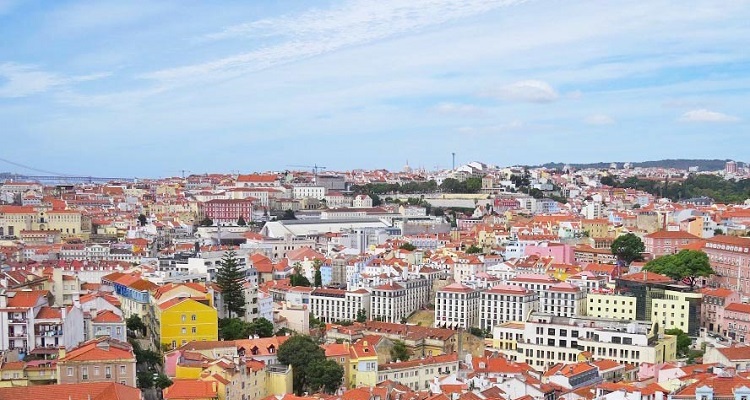 Aerial view of Lisbon | Image by Neves & Ferrão
The Portuguese Golden Visa, designed in 2012 to attract foreign investment, is a successful model for property investors. This program offers a great way for investors whom are non EU citizens to receive a residence permit, in exchange for a five-year investment in Portugal. Not only does this permit give you entry to Portugal, but to the rest of the Schengen countries as well: Austria, Belgium, Czech Republic, Denmark, Estonia, Finland, France, Germany, Greece, Hungary, Iceland, Italy, Latvia, Liechtenstein, Lithuania, Luxembourg, Malta, Netherlands, Norway, Poland, Slovakia, Slovenia, Spain, Sweden and Switzerland.
There are many other benefits to having a Golden Visa, which include automatically qualifying for the Portuguese Non-Habitual Tax Regime, and having security in a safe and stable country; Did you know that Portugal has been ranked the third safest country in the world? You and your children will also have access to the free education system in Europe. You do not have to live in Portugal to get the visa or citizenship either, and you can apply for your Portuguese citizenship after five years. If you are concerned about whether your family can join you or not, worry no more because certain family members can get the residency as well, read here if you would like to know more.
In the past few years, Portugal has been attracting many international investors. Before you can apply for the visa, you need to have already made your investment. I would like to highlight the options available, which meet the criteria for the citizenship by investment in Portugal.
Among other means, you can apply for the Golden Visa by purchasing property, through the following options: property acquisition in the amount equal to five hundred thousand euros or greater, which can be reduced to four hundred thousand if the property is located in a low-density area; and acquisition of property located in Urban Rehabilitation Areas, or property that is at least thirty years old, that totals the amount of three hundred and fifty thousand euros, or more. This can be reduced to two hundred and eighty thousand euros if it is located in a low-density area. You will have to invest a part of the money into renovations with this option, and such projects will need to be approved by SEF in order to qualify for the reduced investment amount, and it is critical to ensure that you obtain the correct legal advice before starting this investment.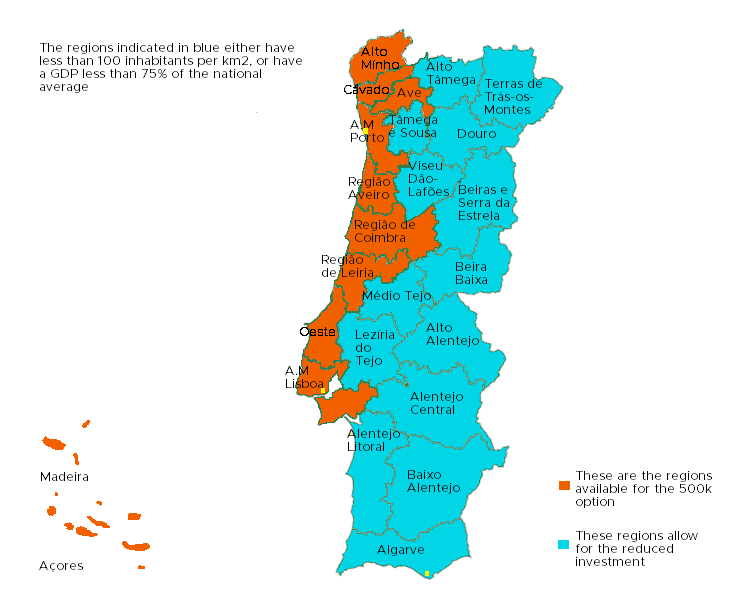 NUTS III map indicating low-density areas | Image by Neves & Ferrão
The low-density area, which allows for the reduced investment, refers to the NUTS III level (The Nomenclature of Territorial Units for Statistics) with less than one hundred inhabitants per kilometre square, or if the GDP of that region is below 75% of the national average. I would like to make a side note that transfers to purchase the property will have to be made by accounts in your name; you cannot transfer money from another person's or company's account.
Now, I would like to explain the requirements for the Golden Visa. Any grown up, who is not a citizen of the EU / EEA can apply for this Golden Visa, however, applications are currently suspended from Iran.
You will need to have a clean criminal record, as well as no previous refusal of entry or visa to the European Union. Once you receive your residence permit, it will be valid for a period of one year, and will be renewable for two successive periods of two years. You will need to maintain the investment for a minimum of five years. You will not even need to live in Portugal during this five-year period, however, you will need to be present in Portuguese territory for at least seven days in the first year, and fourteen or more days, in the subsequent years. Once the five-year period is up, you will be able to obtain permanent residence in Portugal.
You will need the following documentation in order to proceed: the Portuguese Golden Visa application, your passport / valid travel ID, legal entry into the country, which would be your Schengen visa, declaration of compliance with the investment requirements, proof of health insurance, criminal record certification issued by your country of origin / residence (this will need to be issued within the last three months and will also need to be translated to Portuguese), certified marriage certificate (translated to Portuguese), children's birth certificate (certified and translated to Portuguese), the receipt of your payment for the Golden Visa fees, evidence of compliance with social security and tax obligations, a declaration from your bank which confirms the transfer of funds, showing commitment to maintain your investment, as well as showing evidence of the investment. An example of proof you can provide would be employment contracts for jobs that you created in the country, a bank statement reflecting your capital contributions to the country, or deeds of purchase for the real estate investment(s), depending on the option you chose.
You can submit your Golden Visa application on the SEF website. This process will require some patience, because you could wait up to six months for approval, but the wait is worth your while. You will also need to obtain your Portuguese tax number, known as a NIF number (Número de Identificação Fiscal) and open a bank account in Portugal.
Once you are pre-approved, you can book your interview. During this appointment, an immigration officer will interview you, and they will collect your biometric data as well. Once your final approval has been received, you will need to pay an authorization fee per applicant. You will then receive your residence card ten days after paying the authorization fee and that card will be valid for a year.
When the time comes for your residence card renewal, you will then need to submit your biometric data, present a current criminal record and there will be fees required for payment, per applicant, during this process. For the final application for the fourth and fifth year, you will need to submit your biometric data and present a current criminal record again, as well as pay for the renewal process fees per applicant. Now, you can apply for a permanent residence permit and become a citizen of Portugal.
Take note that you do not need to take the A2 Portuguese CIPLE (Certificado Inicial de Português Língua Estrangeira) test in order to obtain the residence permit. However, you will need to take and pass this test in order to obtain citizenship. The test can be taken in one of the several institutions that offers them, such as the Faculdade de Letras da Universidade de Lisboa.
In February this year, the government announced that there will be changes regarding the purchase of real estate in Lisbon and Porto, with the idea to stop Golden Visa real estate purchases in these two cities.
These changes were planned for the start of 2021, however, they have been suspended due to the pandemic. The government is expected to address this situation by the end of 2020. The 500K option will probably not be available in the two main cities anymore. However, the 350K will.
It is recommended that you use a Golden Visa lawyer throughout your entire process, so that you achieve accuracy and time efficiency for both you and your family. If you would like to purchase property, and you choose the 350K option, you will need an adequate contractor to handle the renovations for you. Here at Neves & Ferrão, you will find reliable service, and we will be happy to assist you with your renovations. Give us a call, and become a proud owner of the Golden Visa, while enjoying all the benefits that will come along with it.